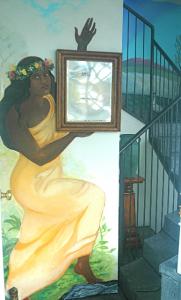 The new artist's cooperative, "Stairway to Art" will be having it's Grand Opening Saturday April 16th from 1 to 6 p.m. It is located one flight above Reuben's Mexican Restaurant beside the Hilo Farmers Market at 336 Kamehameha Avenue in Hilo. There will be refreshments available and raffle prizes donated by the member artists to be won by the visitors at the top of each hour.

It is stated in their Manifesto:
The Stairway to Art is a cooperative gallery and by its very nature it is a cooperative venture. Artists work together for a common goal. We have great artistic talent here in East Hawaii! The Stairway to Art will provide a well placed venue for a diverse array of art. This venue will respect the member artist's right to display work of their choice, and by doing so will promote freedom of artistic expression. Art with meaning from political to religious are acceptable subjects as well as nudes, abstracts, sculpture, mindscapes, new media, etc, along of...